Pentaerythritol
Molecular Formula:

Molecular Structure: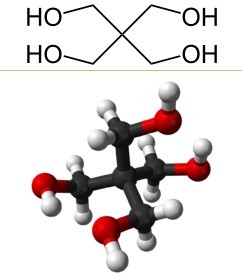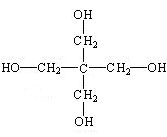 CAS No.: 115-77-5
Molecular Weight: 136.14
Pentaerythritol Property in wiki:
"Pentaerythritol is the organic compound with the formula C(CH2OH)4. This white, crystalline polyol with the neopentane backbone is a versatile building block for the preparation of many polyfunctionalized compounds such as the explosive PETN and pentaerythritol tetraacrylate.[1] Derivatives of pentaerythritol are components of alkyd resins, varnishes, PVC stabilizers, tall oil esters, and olefin antioxidants.
Halogen-free pentaerythritol esters are also environmentally friendly alternative to conventional electrical transformer fluids, being both readily biodegradable and non-hazardous in water. They advantageously replace polychlorobiphenyl (PCB), and even silicone-based or fluorinated hydrocarbons, as dielectric fluid in transformers. Their low volatility and high flash point give them an excellent resistance to ignition in case of major electrical failure and transformer rupture."
Property Forms:


our Packing:
In PP plastic woven bag, inner PE bag, small bags of 25kgs net each, big bags of 500kgs net each.
Applications:
To be used as raw materials of alkyd resin, modified rosin and dry oil, special varnishes; pharmaceuticals; plasticizers; insecticides; synthetic lubricants; explosives; coating and painting.