P-Tert-Butylphenol
Molecular Formula:

Molecular Structure: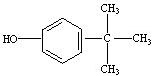 CAS No.: 98-54-4
Molecular Weight:150.21
Pentaerythritol Property:
White or light yellow flake solid at room temperature. Soluble in organic solvents such as alcohol, ester, acetone, alkane and aromatics ( ethanol, butyl acetate, acetone, gasoline, toluene, etc.). Insoluble in water. The color may gradually darkens when exposed to light, heat and the air.
Property Forms:


our Packing:
In PP plastic woven bag, inner PE bag, small bags of 25kgs net each, big bags of 500kgs net each.
Applications:
To be used in rosin derivatives, synthesis of polycarbonate and emulsifiers, dispersants, lubricants, detergents, rubber and painting industry. A modifier for epoxide resin, cymene resin, a stabilizer of PVC, a violet ray absorbent etc.