Maleic Anhydride
Molecular Formula:

Molecular Structure: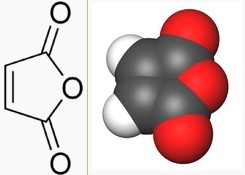 CAS No.:108-31-6
Molecular Weight:98.06
Pentaerythritol Property in wiki:
"Maleic anhydride (cis-butenedioic anhydride, toxilic anhydride, dihydro-2,5-dioxofuran) is an organic compound with the formula C2H2(CO)2O. In its pure state it is a colourless or white solid with an acrid odour.
Maleic anhydride was traditionally manufactured by the oxidation of benzene or other aromatic compounds. As of 2006, only a few smaller plants continue to use benzene."
Property Forms:


our Packing:
In PP plastic woven bag, inner PE bag, 25kgs net each.
Applications:
To be used in modified rosin, unsaturated polyester resins, glass fibre reinforcement, coating, agricultural, surfactant, additive of plastics. Mixed with powders, such as calcium carbonate, the resin can be moulded to make synthetic marble, onyx and granite for wash basins, fire surrounds etc.